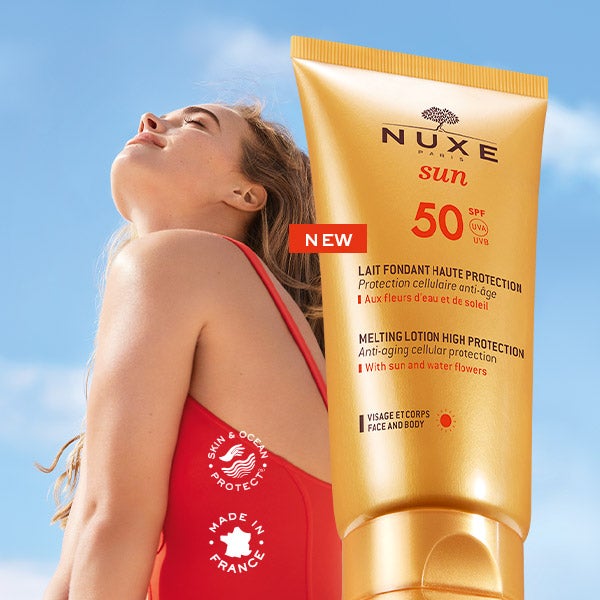 NUXE Sun
Breathe in the sweet scent of summer
High protection*, absolute pleasure
Added to your basket
Sorry, there seems to have been an error. Please try again.
Subtotal: ( items in your basket)
Added to your basket
Sorry, there seems to have been an error. Please try again.
Subtotal: ( items in your basket)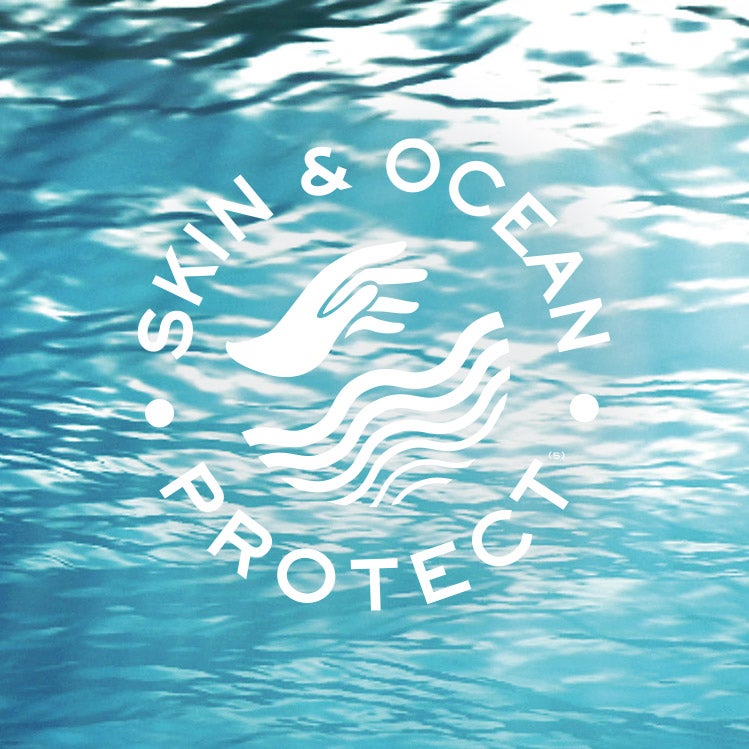 NUXE Research
NUXE Sun ⁽¹⁾ products have been formulated to protect the skin and contribute to respect of marine environments.
Protect the skin
As part of its continuous "clean beauty" approach, NUXE Research has opted for a rigorous selection of just 3 sunscreens in each formula, a patented system(2) guaranteeing wide-spectrum protection from UVA and UVB rays. These formulas also help protect the skin from premature photo-aging linked to the sun.
Protect the oceans
NUXE Sun formulas (1) contribute to respect of marine environments: they have been tested on the marine eco-system (algae and bacteria representative of marine life). The formulas are also water-resistant⁽³⁾, which reduces the dispersion of sunscreens when swimming.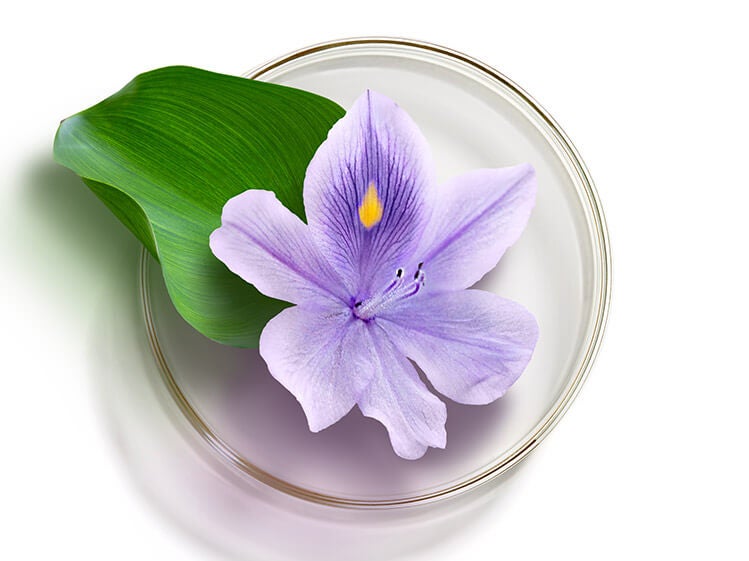 Star ingredient: Water Hyacinth⁽⁵⁾
Protection against dehydration
Native to the Tropics, "Water Hyacinth" is particularly appreciated for its ability to naturally detoxify and decontaminate the waters in which it bathes.
The aerial part of the plant (petals, leaves and stems) is subjected to a natural, exclusive and solvent-free extraction process called oleo-eco-extraction. The resulting Water Hyacinth Oleoactive® concentrates all the properties of the flower: NUXE Research has proven that this extract significantly improves the skin's barrier function and thus prevents its dehydration (NUXE patent).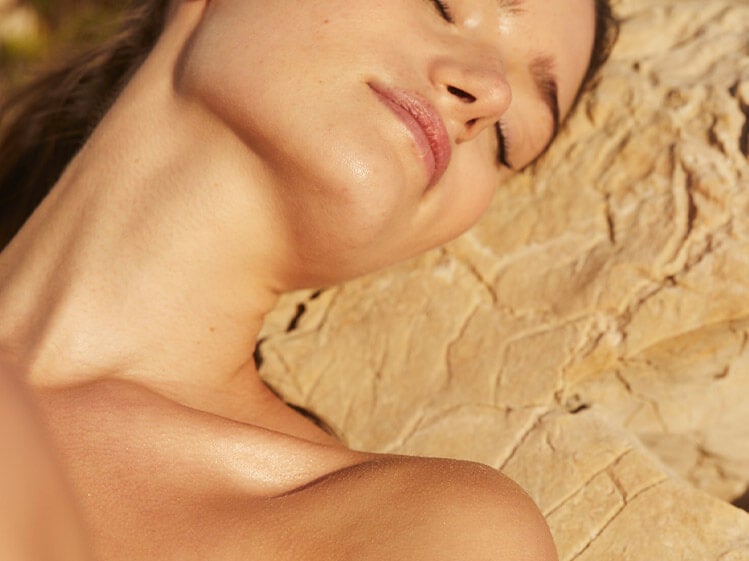 NUXE Sun beauty routine
A sublime tan and sensual pleasure
With NUXE Sun, you can enjoy the sun's warm caress with peace of mind while savouring the pleasure of sensual textures and a scent of adventure. A satiny oil, a light fluid, a melting cream... The textures of NUXE Sun care products captivate with their finish: non-sticky, leaving no white film on the skin. Their solar fragrance evokes the sweet smell of summer with zesty harmonies of Sweet Orange and Petitgrain in the head, wafting Tiare Coconut Flower in the heart and a captivating base of Vanilla and Musk.
NUXE Sun formulas also contain a natural-origin tan-enhancing active ingredient, Carob Powder⁽⁴⁾, that promotes lasting and luminous tanning.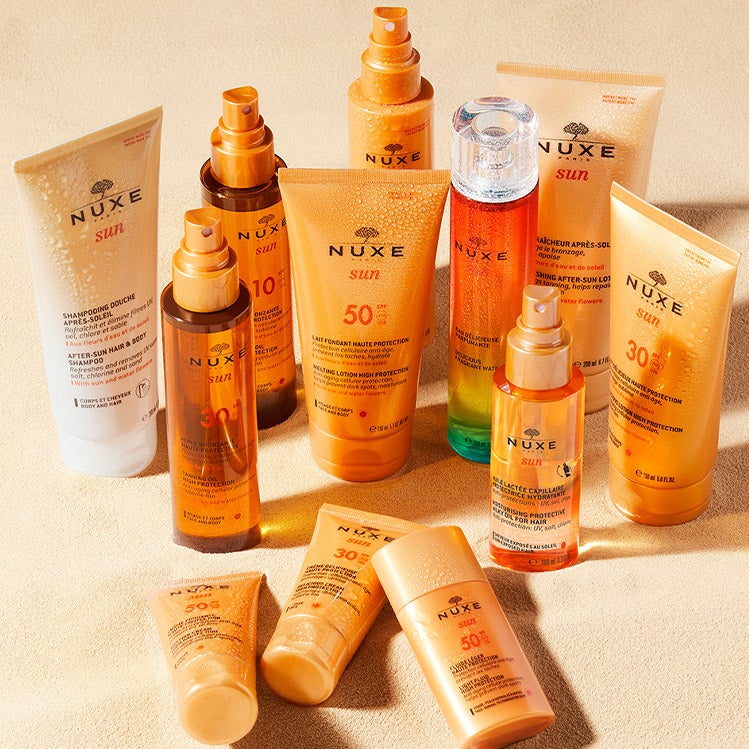 NUXE Sun beauty routine
To effectively protect skin from the sun, it is important to apply a product that filters UV rays. In the city, on the beach or in the mountains, we need to choose the right routine for our phototype (skin's sensitivity to the sun) and exposure conditions. It is advisable to avoid exposure when the sun is at its most intense, between 11 am and 4 pm. A sun care product does not provide 100% protection.
"Sun oil", "sun cream for the face", sun lotion or "sun fluid", whatever your preferred texture, it is essential to apply the product carefully and evenly, at least every 2 hours and always after swimming. Don't forget your hair too, use a hair protection oil.
In the evening, gently remove UV filters, salt, chlorine and sand with the After-Sun Hair and Body Shampoo before moisturizing your skin and applying the After-Sun Milk to make your tan last longer. Finish with a wafting cloud of Delicious Fragrant Water, the most irresistible of summer scents.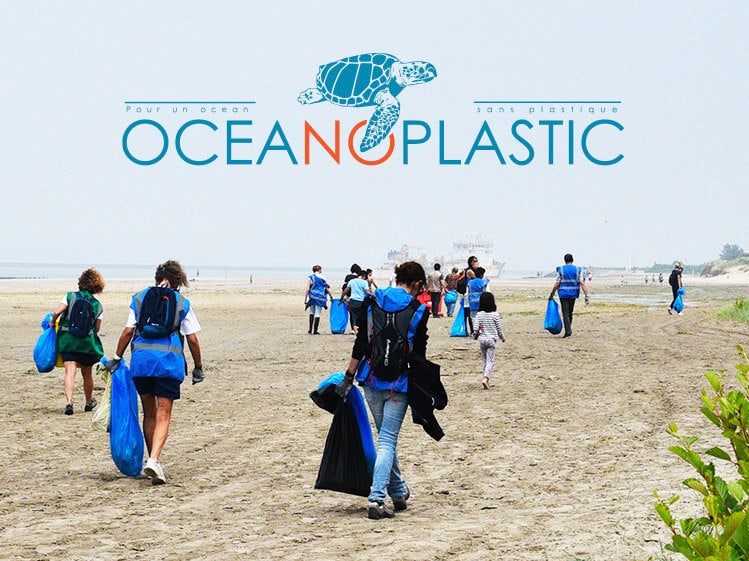 NUXE supports OCEANOPLASTIC
Protecting the oceans is an absolute priority: each year, up to 10 million tonnes of plastic find their way into the world's seas. This is a real environmental, economic and health disaster that requires us all to change our behaviour.
We are working alongside "OCEANOPLASTIC" to play our part "in combating plastic pollution" in French oceans. Since 2016, this environmental NGO has been collecting waste from the sea and along coastlines with the aim of identifying sources of plastic pollution and tackling the root causes. It also organises campaigns designed to inform, educate and raise awareness among consumers, manufacturers and authorities.
About NUXE Sun
Skin has different needs when it comes to sun protection. Laboratoire NUXE has therefore developed a wide range of sun care products for beautiful tanning with complete peace of mind.
Tailored sun protection
NUXE sun care products provide anti-aging cellular protection and promote a beautiful tan. Different sun protection factors are available to meet your needs: SPF50, SPF30 or SPF10.
The SPF50 anti-dark spot sun cream for the face is ideal for light skin and sensitive areas and helps prevent the appearance of dark spots. This sun cream for the face is also available in an SPF30 version.
The light sun fluid for the face SPF50 is a formula designed to be shaken before application to create a "bare skin effect" texture that is ideal for combination skin. Its water-resistant formula protects the skin from the sun's rays, helps prevent the appearance of dark spots and promotes a beautiful tan.
The sun lotion SPF 30 for the face and body protects and moisturizes the skin while infusing it with a captivating scent of Sweet Orange, Tiare Flowers and Vanilla. It is also available in an SPF50 version.
The tanning oil SPF10 and tanning oil SPF30 have a non-greasy texture that protects and nourishes the skin with a very sensual satiny effect.
Protection for hair
To protect your hair from the sun, try the NUXE Sun hair protection oil. It protects the hair and scalp from UV, salt and chlorine, and repairs and beautifies the hair. Colour is preserved.
After exposure to the sun, don't forget to moisturize!
The Nuxe Sun After-sun lotion repairs, moisturizes and prolongs tanning by two weeks (6). Its fresh texture soothes and comforts your skin.
A natural golden glow all year round
For a naturally radiant golden glow all year round, apply the self-tanning cream daily to thoroughly exfoliated skin. The streak-free NUXE Sun self-tan infuses the face and body with a beautiful summery glow.
The pleasure of a shower
Take the NUXE Sun experience into your bathroom with the after-sun hair and body shampoo for gentle cleansing and to remove salt, chlorine and sand residue. For silky skin and light, shiny hair.
A captivating fragrant water
Savour the irresistible notes of NUXE Sun products. Apply the Delicious Fragrant Water all year round to enjoy sunny vibes every day.
⁽¹⁾ High protection: SPF30 and SPF50.
⁽²⁾ Appropriate protection according to skin type and sun conditions.
⁽³⁾ Only for sun protection products with an SPF.
⁽⁴⁾ Except in Nuxe Sun Delicious Fragrant Water, Tanning Oil For Face and Body SPF10, Tanning Oil For Face and Body SPF30, Milky Oil for Hair, Nuxe Sun After-Sun Hair and Body Shampoo, High Protection Melting Spray SPF 50, High Protection Light Fluid SPF50.
⁽⁵⁾ Except Delicious Fragrant Water, Refreshing After-Sun Lotion and Self-Tan.
⁽⁶⁾ Except Melting Cream for Face SPF 50.
⁽⁷⁾ Use test on 22 volunteers. - Satisfaction % after applying the Tanning Oil for Face and Body Low Protection SPF 10 for 28 days.
⁽⁸⁾ Use test – 20 volunteers – satisfaction % after 28 days.
Retouched photographs
Photos may differ from actual presentation