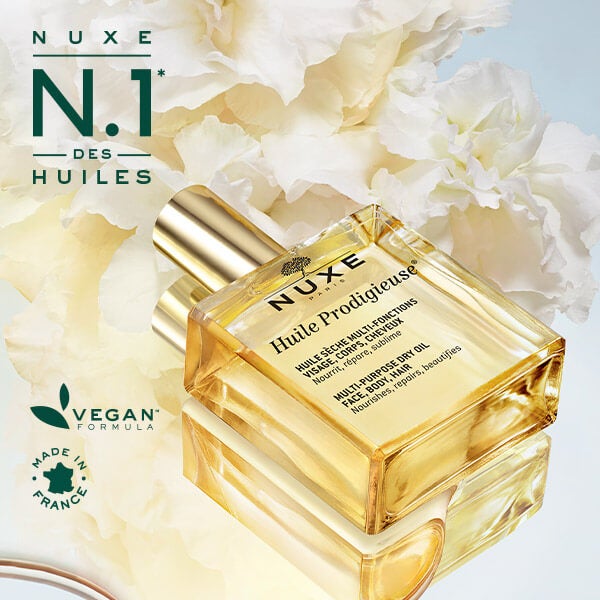 Huile prodigieuse®
Nourish your glow: infuse your face, body and hair with satiny radiance; tune into your senses with irresistible scents.
Huile prodigieuse® Collection
Added to your basket
Sorry, there seems to have been an error. Please try again.
Subtotal: ( items in your basket)
Quick Buy
Sorry, there seems to have been an error. Please try again.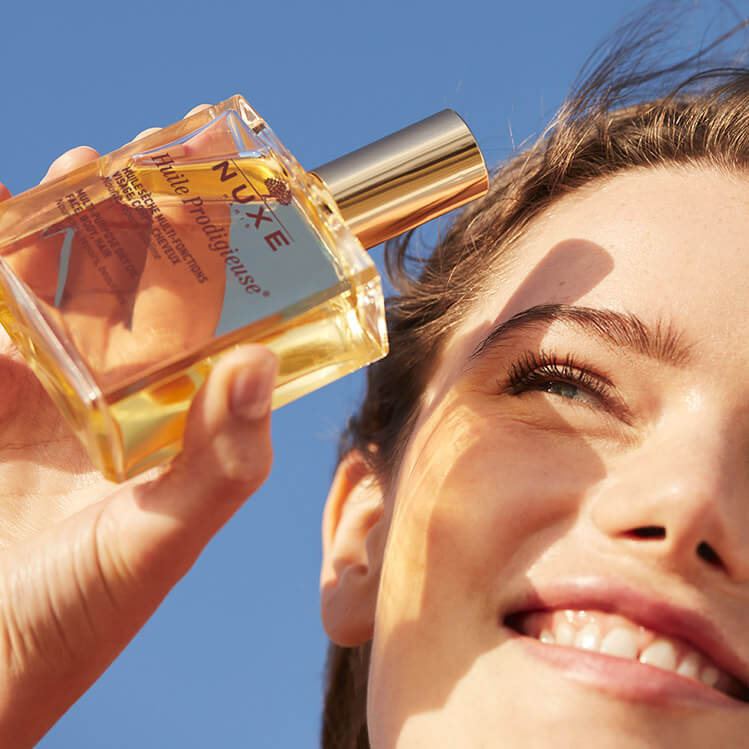 Portrait of an iconic product
NUXE's iconic dry oil and Made in France cosmetics.
Nourish your glow with Huile Prodigieuse®, a care product that nourishes the face, body and hair and infuses them with an irresistible satiny glow, leaving no oily finish. This everyday pleasure has the amazing power to bring you back in touch with your senses, thanks to its inimitable dry-touch texture that envelops the skin like a caress, and its fragrances, each more appealing than the next.
A success for over 30 years.
Huile Prodigieuse® was created in 1991, thanks to NUXE's founder and CEO, Aliza Jabès, who dreamed of a natural product capable of beautifying the face, body and hair in a single step. Her laboratory, a pioneer in botanical oils, developed this care product with a unique 'dry oil' texture and sensual scent. It rapidly evolved from 'beauty secret' to care icon.
Over the years, the collection has grown with the arrival of new versions: Huile Prodigieuse® Or, the shimmering version in 1998, then Huile Prodigieuse® Riche for very dry skin in 2016. In 2019, Huile Prodigieuse® Florale unveiled a fresh new take with uplifting floral notes. In 2021, another new arrival joined the collection, Huile Prodigieuse® Néroli, a new certified organic version with soothing notes of Neroli.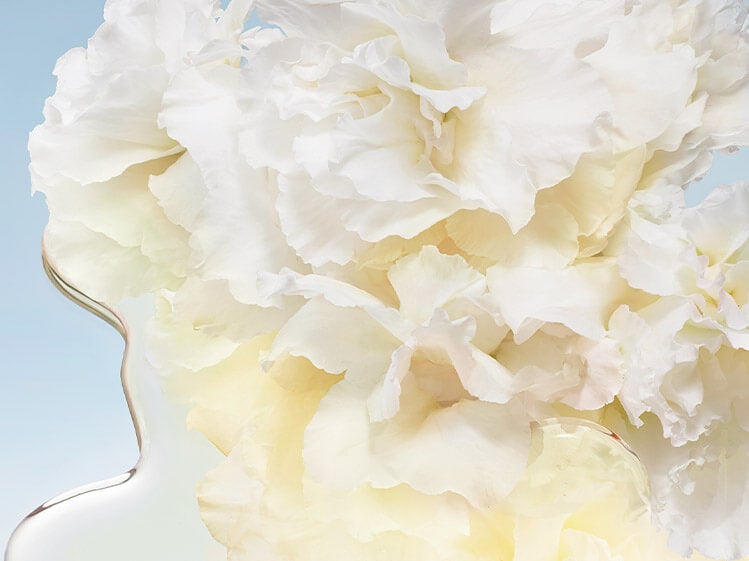 Star Ingredients
Its unique vegan* cocktail is formulated with 97% to 100% natural-origin ingredients (depending on the versions).
Huile Prodigieuse®, Huile Prodigieuse® Or, Huile Prodigieuse® Riche and Huile Prodigieuse® Florale contain 7 botanical oils with complementary properties, selected for their affinity with the skin: Tsubaki Oil (moisturising), Argan Oil (repairing), Macadamia Oil (nourishing), Borage Oil (smoothing), Camellia Oil (moisturising), Hazelnut Oil (protective), Sweet Almond Oil (softening).
Huile Prodigieuse® Néroli is a delicate alchemy of 2 organic botanical oils (organic Ente Plum Oil and organic Sesame Oil) in a certified organic formula.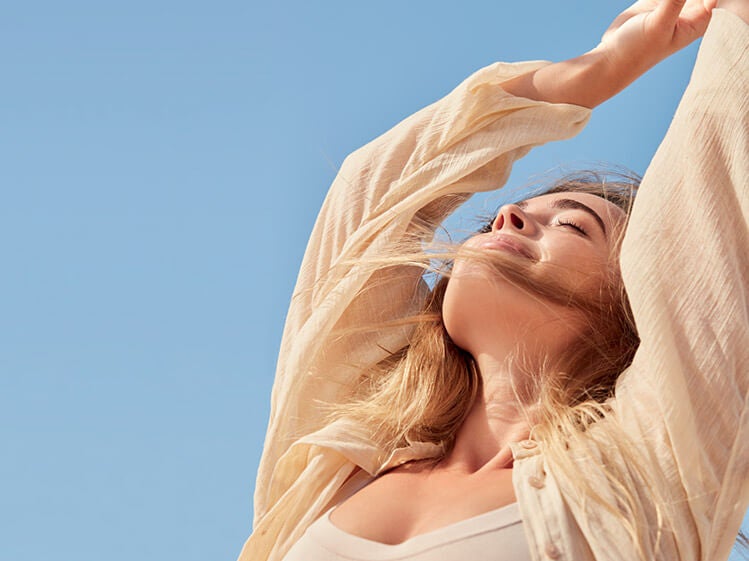 Proven multi-purpose effectiveness⁽²⁾
On the Face:
- Anti-oxidant effectiveness: 1 drop of Huile Prodigieuse® is enough to protect the skin from over 90% of free radicals ⁽³⁾.
- 'Shield' effectiveness which protects from pollution: Huile Prodigieuse® limits the adherence of polluting particles on the skin.
On the Body: Huile Prodigieuse® reduces the colour of stretch marks by 30% ⁽⁴⁾.
On the Hair: Huile Prodigieuse® improves hair's suppleness (+104%), strength (+102%), repair (+87%) and shine (+81%). Effectiveness evaluated by a professional hair stylist ⁽⁵⁾.
Its effectiveness is recognised by women ⁽⁶⁾: 97% find it nourishing and repairing; 100% find it softening.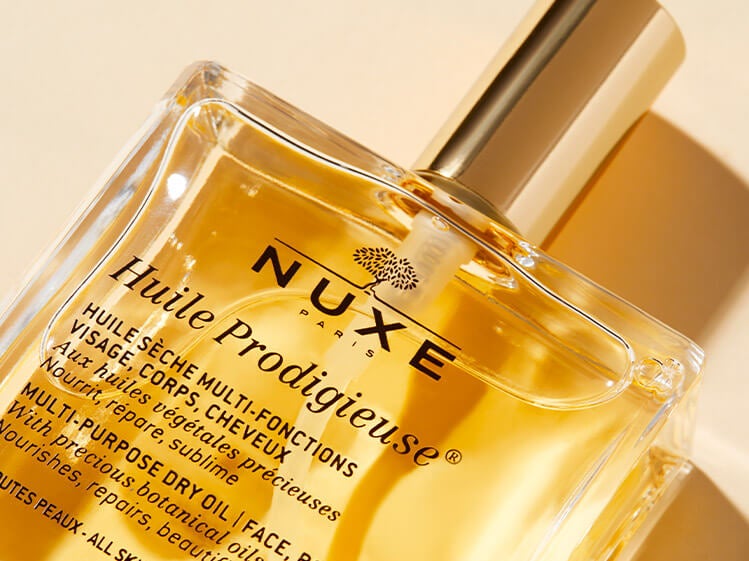 Huile Prodigieuse beauty routine
Use Huile Prodigieuse® all year round, winter and summer, on your face, body and hair.
Before applying, warm the oil in your hands then cup your hands below your nose to breathe in the feel-good benefits of its scent.
- On your face, apply on its own or mix a few drops in the palm of your hand with your NUXE moisturiser.
- On your body, apply using circular movements (chest, legs, etc.), paying particular attention to very dry areas of skin and/or stretch marks.
- On your hair, apply to the lengths and ends. For an intense conditioning effect, apply all over your hair once or twice a week as a mask. Leave for 10 minutes and then shampoo your hair.
About Dry Oil Huile Prodigieuse®
NUXE's Dry Oil Huile Prodigieuse® nourishes, repairs and beautify face, body and hair.
Not only does it moisturises: it also smells and feels great. It is made with seven precious plant oils that ensure optimal hydration for the skin. The iconic fragrance of Huile Prodigieuse and its ability to reveal your skin's beauty have made it the N ° 1 dry oil in pharmacies in France⁽⁷⁾
For an even more sensuous, golden touch, try our Huile Prodigieuse® OR . This Shimmering Dry Oil will illuminate and soften the skin and hair. Its non-greasy texture means that you can get dressed right after applying it.
Succumb to Huile Prodigieuse® Florale, a fresh floral fragrance with sparkling notes. This moisturizing oil nourishes and repairs face, body and hair. You can also find this scent in the form of a scented shower gel.

End your skincare routine with Prodigieux® le Parfum, a feminine blend with notes of orange blossom, magnolia and vanilla. This Eau de Parfum has a captivating fragrance recreated from our iconic Dry Oil Huile Prodigieuse® that will make you feel wonderful and sophisticated.

*IQVIA - Pharmatrend/Paratrend PharmaOne-oils body care market, in Pharmacy and Parapharmacy in France - Year 2019, volume and value

*Vegan formula with no ingredients or derivatives of animal origin.
⁽²⁾ On the classic Huile Prodigieuse® formula.
⁽³⁾ Under the conditions of this DPPH in vitro test.
⁽⁴⁾ Use test - 26 volunteers. Improvement % evaluated by a dermatologist after 56 days.
⁽⁵⁾ Use test - 29 volunteers. % improvement evaluated by the hair stylist after 28 days.
⁽⁶⁾ Use test - 29 volunteers. Satisfaction % after 28 days.
⁽⁷⁾ IQVIA - PharmaOne Pharmatrend - Women's body care oil market (82F1E AND 82K6) - in pharmacies - France - Year 2020 - value and volume.